Frosya - Only in Red...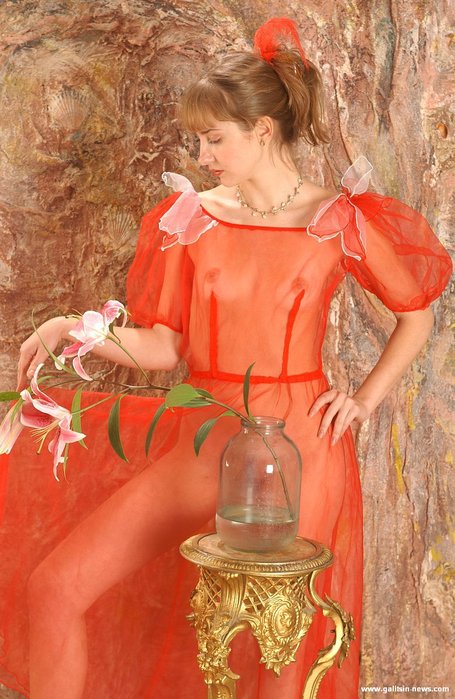 Full stage name: Frosya
Age: 19 Date of Birth: 24/07/1984
Bust: 83 Waist: 60 Hips: 90
Height: 169 Weight : 51
Dress Size: 42 Shoe Size: 37,5
Place of Birth : Volgograd
What do you think are some of your best features?
My lips
Favorite Color:
Blue
Favorite TV Shows, list names :
"Around the world"
Favorite Books, list titles :
"Ovod"
Favorite Movies, list titles :
"Where dreams can bring "
Favorite Magazines, list names :
"ELLE"
Favorite Web sites :
www.mobile-erotica.net
Favorite Music, list titles :
Red hot Chilly Peppers, A-ha, Tory Amos.
Favorite Time of the Day, Why?
Evening, when I can underline my day activity and rest
What is your educational background? Major?
I`m a second year student of the Technical University. Chemical technologies faculty.
Do you speak any other languages? If so, say something to me in that language.
I study English
Favorite Place to travel, relax, or visit :
Seaside
Where are some of the places you have traveled?
I was abroad several times. Finland, Turkey
What is your favorite Holiday? (Christmas, Valentines, Thanksgiving, etc….)
New Year
Favorite Food, Snacks, and Candy :
I love ice-cream
What is your dream car?
KIA Rio
What is your dream occupation?
Biologist
Describe your favorite place to shop?
Toy shops
Do you watch sports, if so what are your favorite teams?
I love figure skating, football, gymnastics
Do you play any sports or other activities? Explain.
I used to go in for gymnastics
What are your hobbies?
I collect rare foreign coins
Drinks of choice both alcoholic and non-alcoholic :
Original pineapple juice
Occupation :
Chemist-technologist
Do you have any Pets?
Fish
Marital status :
Single
Nothing comes between…:
Me and my family
My worst habit is:
I'm often naughty
The one thing I cannot stand is:
Lies and treachery
What animal best describes your personality and why?
Cat. I always do everything by myself
The people who knew me in high school thought I was:
Very calm and modest
How do you relax or spend your free time?
I read different things in Internet, go for a walk or read books
What has been the happiest moment of your life?
When my sister was born
What are your Hopes & Dreams:
I want to get higher education and build my own life full of happy moments.
The best advice I've ever been given was:
Not to lose my head
The worst advice I've ever been given was:
I don`t remember bad advice
What type of panties do you wear, if any?
Bikini
Ideal Man or Woman :
There are no ideal people
Does size matter? What is the ideal size?
Size doesn`t matters at all!
Describe your First time (details: location, thoughts, satisfaction, etc…)
I`m still a virgin
Turn-ons :
Kisses in my ears
Turn-offs:
Insolent people, especially drunk
What makes you feel the most desirable?
Tender huggs
Best way to give you an orgasm:
I don`t have such experience
Do you masturbate? How often? (Finger, toys, or both)
No
What was your first fetish, if so what?
I love blue cloth, especially stockings.
What is the most exotic or unusual place you have ever had sex? Or where would you like it to be?
I would like it to happen in the palace on the old oak furniture with silk sheet.
Extended Questions:
Describe a typical day in your life.
I get up at 9 a.m., wash my face and have my breakfast. I go to university. I spend there most of my time. I come back home at about 7 p.m.
Describe in detail your favorite sexual fantasy:
Making love at the seaside
Tell us about your idea of a fantasy date:
I dream of the date somewhere in the Finland
If you could be photographed in any way, in any setting, what would you choose? What would make you feel the most desirable, the sexiest? Please describe.
I would like to be shot in the shower or having a free-fly.
What can you wish our members?
I wish you pleasurable viewing. I hope, I won`t disappoint you.
What do you think about you work with Galitsin?
He helped me to overcome my fears. This person made me open my secret talents towards erotic photography.
One day it happened that Frosya became adult. Her desires began to dominate over her mind. She is longing for love and concupiscence, endearment and passion, contentment and felicity. But… does she know that she really wants it? Her essence, fervent frenzy incites her to thoughtless actions. She takes queer decisions not realizing to end why she is doing that...
In her innocent glance it's hard to perceive temptation of a woman of experience, her white maidenlike body allures with its primeval charm. Her easy and expressive gestures bewitch with sensual strength, unwittingly involving a spectator into a whirlpool of secret desires. Her body is full of delightful curves, that fascinate men with its coquettish hints at terrific delight which a splendid body can give; reward the worthy man. Slender waist and broad hips stir up the very primitive hunger for a woman. Her breast as if created for a male palm, its perfect shape attracts rapturous gaze of admirers.
That wonderful creature woks at the junior group of the kindergarten, and she dreams of becoming a teacher of a senior school in future. Her sphere is rather wide and multifarious, it is not limited to kids or coevals; she is much more attracted by big men she feels herself happy and safe with.
One of the reasons she agreed to be shot at the Master's place after his numerous entreaties was the thing that Galitsin acquired a taste for a young picture of beauty. She adores being photographed, knowing that hundreds of thousands eyes are watching her, virtually fondling her body. That's why she is eagerly opening all undercover corners of her essence.
Do you want to have such tutor?